You are now in art heaven!
Come to the Pink Buddha Art Studio in Portugal, explore this wonderful country and paint as much as you wish in a large, spacious studio.
I work with every student or group individually to devise and plan out the programme YOU would like – the right combination of painting sessions with myself (if you would like this), your own studio time, trips and outings and just free time to enjoy the pool, garden and Portugal. Flexibility is key and my aim is for you is to feel free AND fulfilled as well as to have fun, relax and be creative.
For full details click http://pinkbuddhaartstudio.com/paintwithlinda/
The studio is a place where I want people to feel at ease to explore their creativity, whether you are a beginner who lacks confidence and wants to know how to start, or an established artist looking for new inspiration. I bring to the studio 40 years of teaching experience which has enabled me to help each person very individually, and feel instinctively the kind of guidance and tuition I can offer, in a gentle, non-judgemental but informed way. Most visitors end up as my best friends!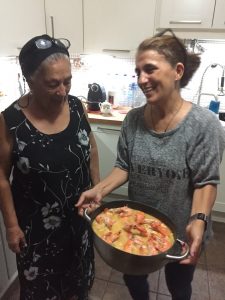 Portugal is a safe, fascinating country full of loving, welcoming people, and I have tried to make my studio a reflection of this. There will be opportunities for trips and outings, getting to know local people and their culture and it is always possible to arrange a Portuguese Cookery Evening often the highlight of the stay!
Accommodation above the studio is unlikely to be available during early 2018 due to renovations and other exciting changes, but please check with me first before booking at our local hotels…..the Lousada Country Hotel, or Penafiel Park Hotel and Spa, or you may prefer to check out the local Airbnbs. I will always be able to provide transport to and from wherever you choose to stay within a reasonable distance . There will still be some months later in the year when it may be possible to stay above the studio, so do precheck. Follow the tabs above for more specific details of local hotels.
There is a garden and a pool, and the studio is fully equipped so you do not have to worry about materials! Learn much more here
My studio is located on the edge of the small town of Lousada, in the heart of Northern Portugal and only 30 minutes from the vibrant, historic city of Porto. It looks  out over farmland to distant hills, and opens onto a wide sun terrace, swimming pool, and a lower garden with fruit trees.
As well as my Paint with Linda experiences you may also be interested in one of the following:-
…….  To BUY ONE OF MY PAINTINGS OR PRINTS, please follow the links at the top to Linda's Art, Prints and details of Sales and Packaging. 
…….. My totally innovative  PAINT WITH LINDA ONLINE Ecourse  based on individual Skype sessions, videos, notes and one to one mentoring has already been an amazing success with many of the original students now opting to continuing online mentoring with me. Read all about this course and enrol here

If you would like more information about anything at all, do get in touch with me via email as in the sidebar.  Payment options online at present are via Paypal, but if you would like to use a different method, or in easy terms, again, just email or message me and we can organise this.