My Painting Process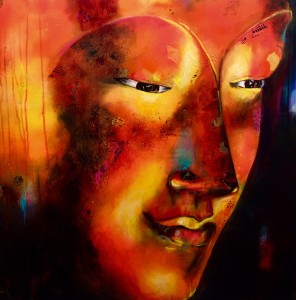 My aim in painting is to create a picture that will leave a strong impression, with impact, that will speak to you, and that will enhance and be very present in your home, almost alive. I use bright, strong colours and textured backgrounds to help me achieve my goal – these are also strong reminders for me of the times I have spent both in India/Sri Lanka, and the American South West – both areas where colours are strong and brilliant, reflected from a bright sun and deep blue sky. I work principally in acrylics, although I also enjoy working in oils, especially for portraits. In some of the larger pieces, I like to incorporate my unique ' secret collage' where I use hand prepared paper in subtle ways to enhance, and to add texture, value contrast, depth and shadow in a very discreet way.
PRICES NOW INCLUDE INTERNATIONAL POSTAGE TO MOST PARTS OF THE WORLD
Please note that SIGNED PRINTS are always available of any piece…..
PRICES (given in euros but payment in dollars or pounds accepted at exchange rates on the day)
100% cotton rag
Stunning natural white archival paper with archival ink
Size options for standard frames
Small:           300mm x 400mm………………………€40
Medium:       400mm x 500mm………………..……€50
Large:             450mm x 600mm…………………….€65
XLarge:         600mm x 800mm……………………..€75
Prices for paintings are given in  US dollars, but I am happy to accept euros or pounds, too, at the exchange rate on the day of sale.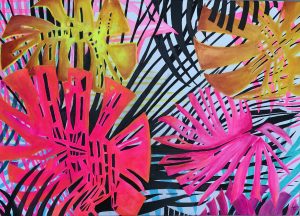 Tropical leaves
On stretched canvas in acrylic
70cm x 50cm
For Sale at 450$ including postage
Sri Lanka Nights
In acrylic on stretched canvas
60cm x 60 cm
FOR SALE……….400$ including postage
TOUCAN
……..this cheeky chap pops out of the canvas! Acrylic with signature collage on stretched canvas 60cm x40cm (27.5in x 15.25in)
……..available as a print (see above)
Original for sale at $350 which includes international postage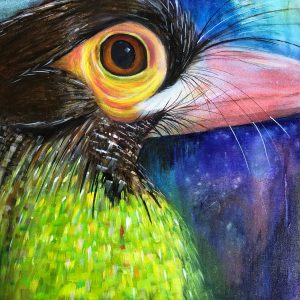 'BARBET'
………a beautiful green bird from my hotel garden in Sri Lanka with yes like yellow saucers!
Acrylic on stretched canvas 40cm x40cm (15.5in x 15.5 in)
……..available as a print (see above)
Original for sale at $350 which includes international postage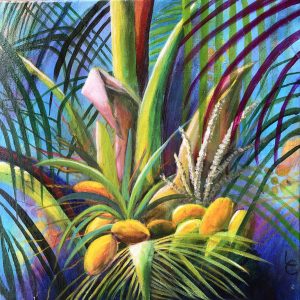 'SRI LANKA PALM'
I watched this beautiful tree just outside my door for three months
….and saw the coconuts mature into beautiful yellow globes
Acrylic on stretched canvas 40cm x40cm (15.5in x 15.5 in)
JUST SOLD……..available as a print (see above)
'SHIVA'….a large glowing portrait in acrylic on stretched canvas of the Indian God Shiva. 110cm x 70 cm or 42″ x 28″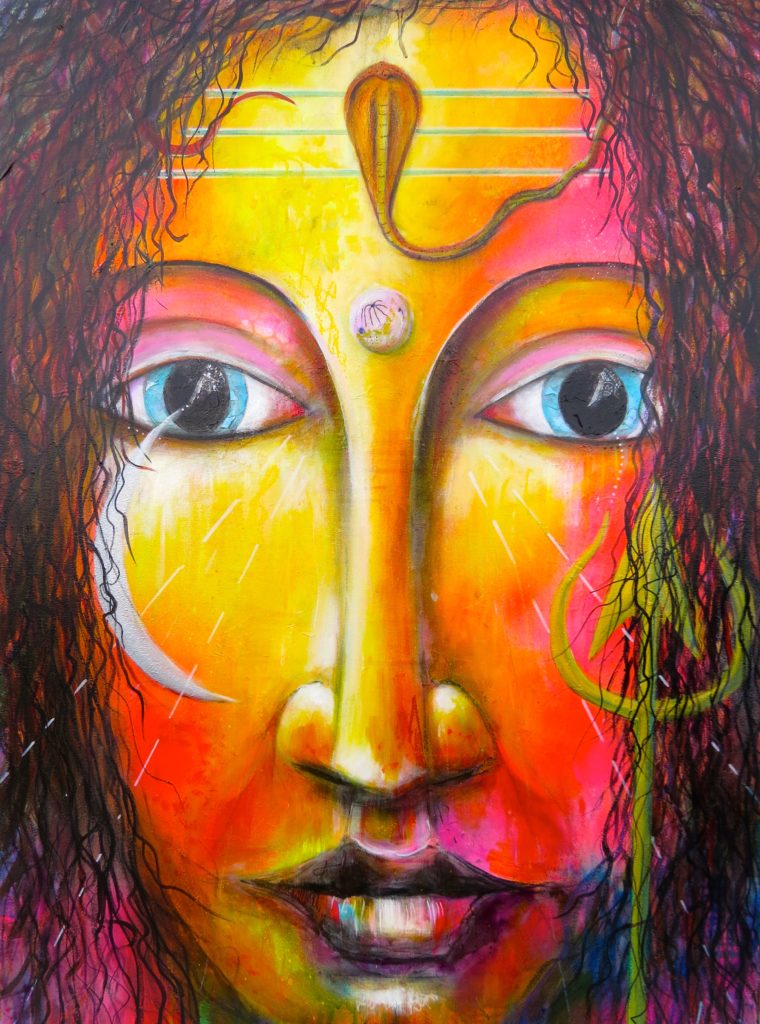 For sale at  $750
For prints, see above
Seaside 1 and 2        
Abstract pieces combining acrylic paint and my own collage papers, in subtle and imperceptible ways.30cm x 30cm (12″).
For sale at $135 each or $240 for the pair, international postage included
Small size prints available, see above.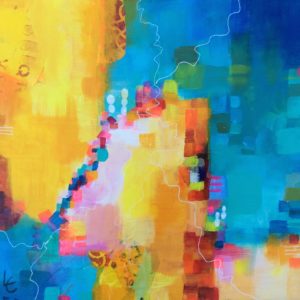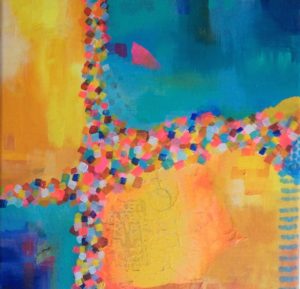 'Going round in Circles' (below)
Acrylic on stretched canvas, with more subtle colours and markmaking. 120cm x 70 cm (42″ x 27.5″)   $620 including international postage
Prints available to order as above               
Please ask for more photos of this piece if you are interested as it is much more beautiful  and meaningful in reality!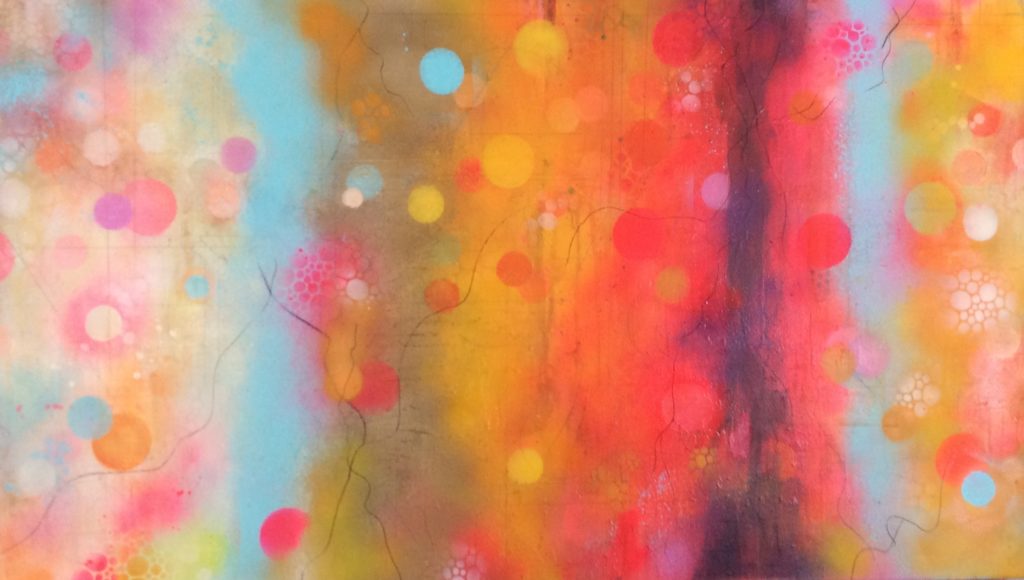 'Wisdom'
Acrylic mixed media on stretched canvas –  this is  one of my favourites, slightly smaller and lighter in weight. 
70cm x 50cm (27.25in x 19.5in)
For sale at $350
Available as an art print and as other merchandise (see following page)
"Buddha Sees" Acrylic on stretched canvas with a little collage
50cm x 40cm (19.5in x 15.5in)- – Also available as an art print or other merchandise. FOR SALE at $300 to include international postage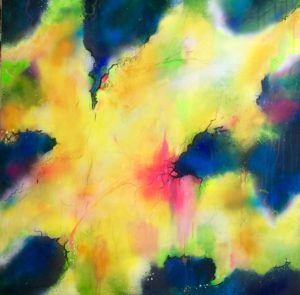 STAND OUT FROM THE CROWD (above)
Mixed media on canvas 90x90cm  (35″) For sale at $600
ARIZONA HORIZON
Acrylic on stretched canvas, 20″x15″  51cm x 38cm)    FOR SALE at $25
Portraits (commissions welcome)
Please read the following page for details of portrait commissions – I work in acrylics or oils, though oils will take a considerable time to dry. I love portrait painting, especially capturing the essence of the person or animal, the sparkle in the eye, and I will always want to know more about the person or animal, their character, and your memories of them. These are mostly personal ones as an example, ranging from highly realistic to more expressive, as you prefer:-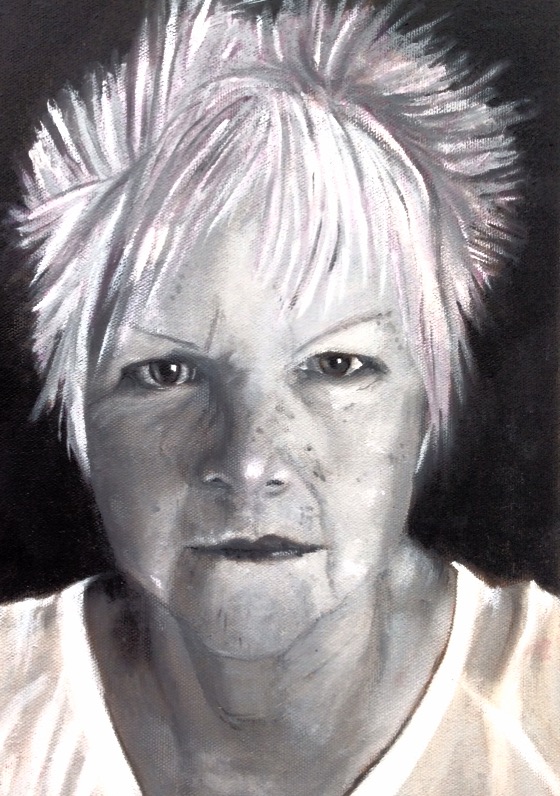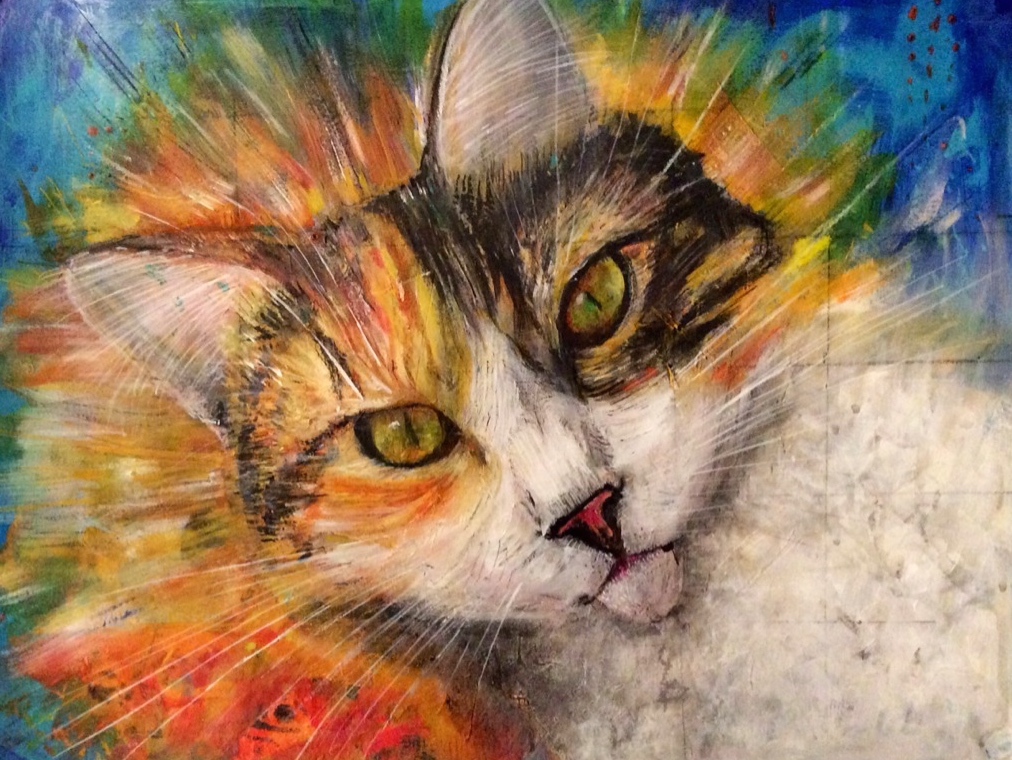 RECENTLY SOLD – PRINTS AVAILABLE – see above for sizes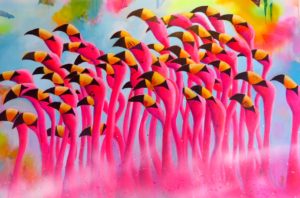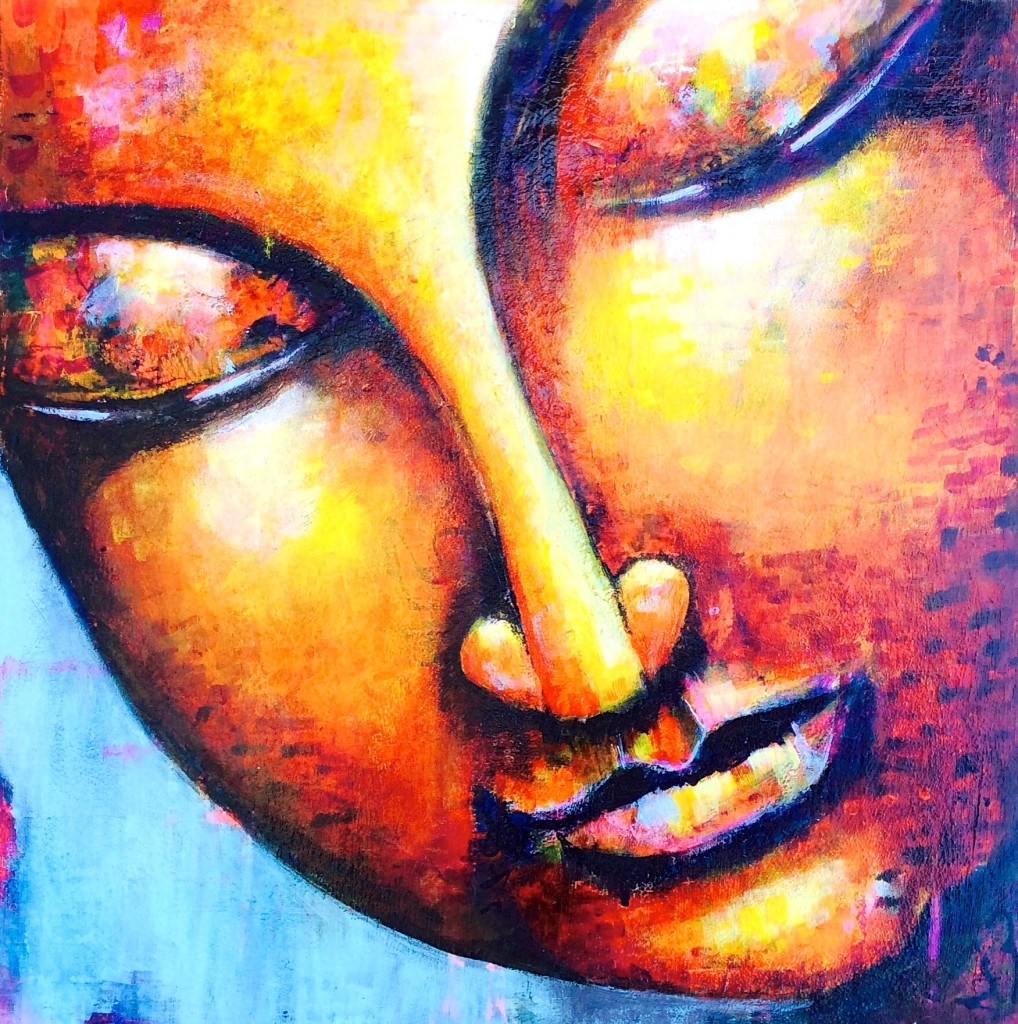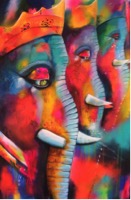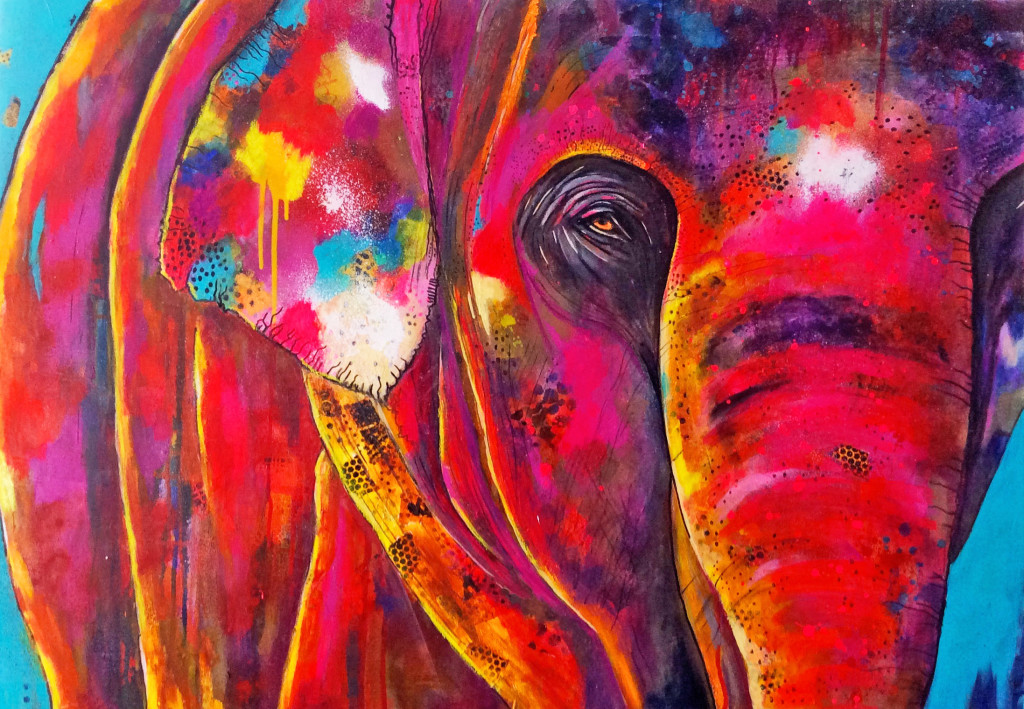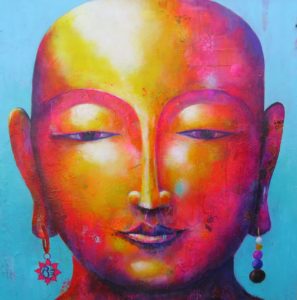 The Pink Buddha guards the studio!