The house is situated in a quiet suburban street at the edge of the small town of Lousada. For more about Lousada, and other interesting places in the area, please see here.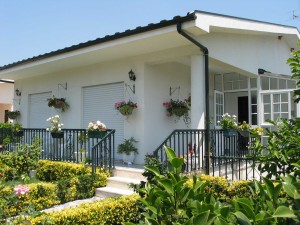 It's a relatively modern three-bedroomed house with all amenities,  and I have recently remodelled both the kitchen and the main bathroom. There are two bedrooms with a double bed in each, and one twin-bedded room. There is one main bathroom with shower and jacuzzi bath, plus an extra WC with laundry utilities. there is also a lounge/dining room with a TV and sofas for relaxing. I have been holiday letting during the summer months for several years, so I am used to providing a comfortable and clean place for people to stay where they can relax after a day's painting or sightseeing! Wifi is available throughout, which helps in streaming TV channels as well as social media etc.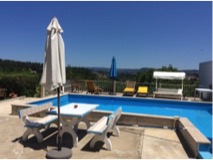 The stay includes all the equipment in the house, bedlinen, towels, kitchen equipment etc as well as utilities. I prefer to offer this on a self-catering basis as we all have our different tastes and dietary preferences – and I think it's quite fun to try out the local supermarkets. I can help with transport to an extent, but if you want complete freedom to sightsee and tour the area, then car hire would be essential, though the train service to Porto is excellent.
A full description and more photos of the house can be found on my holiday rental site here, though of course the prices do not apply! Please don't hesitate to ask me anything more that you would like to know.
If you are attending a workshop led by an artist, or one led by myself, in which you have opted to share accommodation at my house above the Pink Buddha Art Studio, (reflected in the cost of the workshop i.e. with or without accommodation, and I am happy to answer questions about this by email), I very much regret that it will not be possible to offer accommodation to partners and/or children. My objective is to offer a retreat-type experience, to allow people to relax away from home cares, to feel free to talk about issues in a safe environment, to have fun, to use the pool in summer and to avoid privacy issues. Of course, if you have booked a personal 'Paint with Linda' experience, then family and friends are welcome, as you will have exclusive use of the accommodation.