A UNIQUE PERSONALISED PAINTING COURSE FOLLOWED BY REGULAR MENTORING SESSIONS:
MENTORING IN ART:
I have been a teacher all my life, and have always felt that, in the online and workshop courses I myself have completed, good as some were, they lacked both the personal touch, and, especially, any one to one teaching, where the teacher gets to know the individual students as individuals, assesses how they can help that person move forward, and develops a very close relationship with them and their needs. I want to provide that student-centred approach as if you were here beside me. I recommend beginning with the initial six week programme, which is very flexible, to enable a good working relationship to develop,  but you may, of course, opt to just choose the mentoring alone, as described lower down the page.
Each student follows a personalised programme consisting of :-
One to one Sype (or similar) sessions every week, total confidentiality, each person following preferably an initial 6 week programme (individually planned), backed up by techniques videos, access to me during the day via Messenger with any doubts or problems, a private but very sociable and supportive Facebook group for all students…and much, much more! This is then followed up by regular mentoring sessions for as long as you wish. Students are recommended to take their own notes during a session, and I am always in touch via Messenger, email etc for any doubts.




For beginners seeking to learn how to paint…….

…..and more advanced painters looking to discover your style and inspiration via personal tutoring, positive critique and techniques to expand your self confidence while you paint – so you no longer need to 'copy' your favourite artists, but develop your own, unique touch, which you are proud of. Work is mainly with acrylics, but oils can be used. 

Flexibility – you chose the frequency and number of your sessions, and they can be accommodated into the unexpected happenings in life!

Paint pictures you love and with your unique personality!

Most of all…stop worrying and enjoy the process!

YOU CAN DO IT!
Initial Six Week Programme           COST:

$150
(this is not essential but is recommended as a starting point – mentoring without the programme is also easily arranged)
Six or more weekly one to one private Skype chats 'at our easels' to set your goals, begin your painting, introduce techniques to stimulate ideas and confidence, form an open, friendly relationship where you are free to ask any questions at all, positive, detailed, critique and feedback, techniques and suggestions…and lots more conversations with me 'at your easel' where I can help you personally, from the beginning to the end of your painting, recreating my very successful teaching techniques at the Pink Buddha Art Studio.
Also, a range of demonstrations and advice videos and written follow up on a password protected page, These will include both collage and painting techniques, painting ranging from simple brush work and colour, to more advanced concepts of tone, design and composition, all adjusted to meet your present skill level
We begin at a mutually convenient time, and set the programme each week to allow for flexibility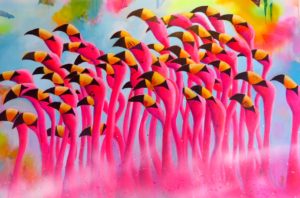 CONTINUED MENTORING /MENTORING
After the initial six week programme, you may wish to continue on with our personal chats, and maybe to interact in the group, following our journey together.
….or you may wish to begin with me at this point. I always offer a free Skype session to anyone who is interested…to get to know each other, for you to ask questions, and for you to decide with absolutely no pressure. as everyone is an individual with very different needs and aspirations, I also need to make sure I can help and guide you on your path.
The MENTORING will be flexible and you can choose from the following options:
Four hours (no clock watching!) of one to one Skype mentoring a week, payable in four week instalments.
  Cost $100 per month (four weeks)
2.  Two hours of the same during the four week period.
  Cost $50 per month (four weeks)
or….Any other combination – more or less……with total flexibility month to month. However, I do recommend at least two sessions a month – as it is essential to keep some focus, I know how easy it is to get distracted and let life take over!
PAYMENT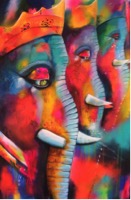 You can pay via Paypal to lindachaves15@gmail.com, or by pressing…….
Initial Programme – Six weeks, $150
Four weeks (Four hours) of Skype plus mentoring  $100
Four weeks (Two hours) of Skype plus mentoring   $50
As there are only so many hours in a day, there may be a waiting list to begin but I will do all I can to fit you in!
Each one of us is uniquely different – and we want to express that in our unique way. My passion is to help each person to find their inspiration, state their intention, decide how they are going to proceed, what techniques they will need, and then accompany each person individually though the painting, step by step, just as I would if you were with me in the studio. I want to help you with all the following:
you are a beginner, I will help you make a start, what materials to get from the huge array on the market, how to make those first marks, then build upyour picture in layers, to stop negative self-talk and doubts, and to start just enjoying the 'doing' of painting, the fun and pleasure the process brings, and how it can change your whole outlook on yourself and your life. Then we will work through all the techniques as your very first painting comes to life!
For all levels, discover what makes you passionate about painting – be it images you have seen, life experiences, more abstract shapes or colour, or something inside you trying to burst out!
……turn that passion into reality by creating at least one painting, even a series, from inception to completion over the course of six weeks, with regular one to one input from myself, as well as a weekly written component combining both a full range of techniques and principles, composition etc, advice and tips from my experience and others who have come to the Pink Buddha – and how to cope with the ups and downs, the stuck moments and when a painting doesn't seem to be working
the main objective is that each person discovers and develops their own unique style, discovers what they like to paint, and discovers how to use their personality to bring their ideas to life in their unique way
If you would like to ask me any questions about the course, please email me at linda.janet.chaves@gmail.com and I will be happy to reply.