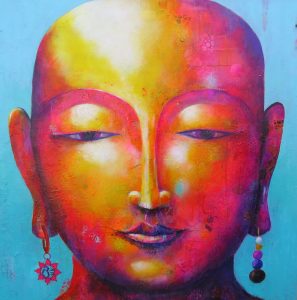 A UNIQUE PERSONALISED PAINTING E-COURSE
WITH THE OPTION TO CONTINUE VIA REGULAR MENTORING SESSIONS: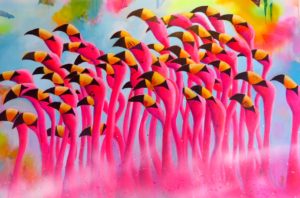 I have been a passionate teacher all my life, and have always felt that, in the online art workshop courses I myself have attended over the years, good as some were, they lacked both the personal touch, and, especially, any one to one teaching, where the teacher gets to know the students as individuals, assesses how they can help that person move forward, and develops a very close relationship with them and their needs. There is also often a lack of follow up after the course.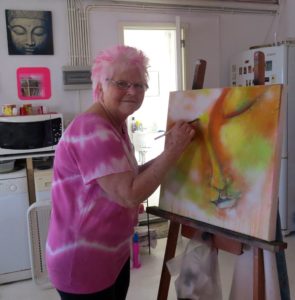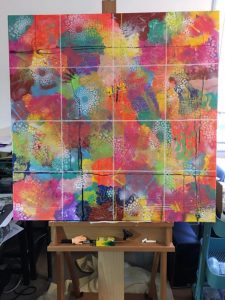 I aim to provide that student-centred approach as if you were here beside me, just as I work with students here in the Pink Buddha Art Studio. I recommend beginning with the initial six week programme, which is very flexible, to enable a good working relationship to develop,  but you may, of course, opt to just choose the mentoring alone, as described lower down the page. You may begin the course at any time which suits both of us and set the skype sessions at times which work alongside international time zones! I try to be friend, teacher and mentor, to approach the course with humour and positivity, and to be 'there' for you at all times.
"Discover what makes you passionate about painting – be it images you have seen, life experiences, more abstract shapes or colour, or something inside you trying to burst out!
……and turn that passion into reality by creating at least one painting, even a series, from inception to completion over the course of six weeks, with regular one to one input from myself, as well as written and video components where I demonstrate each stage of the process, combining both a full range of techniques and principles, composition etc, advice and tips from my experience and others who have come to the Pink Buddha – and how to cope with the ups and downs, the stuck moments and when a painting doesn't seem to be working"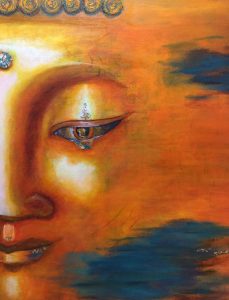 Each student follows a personalised programme consisting of :
1. One to one Skype (or similar) sessions every week, up to 60 minutes each.….a free 30 minute introductory Skype session to get to know each other, and plan out our individual programme
……..total confidentiality and individual help and support at your level,  to plan out a flexible programme
……..positive detailed critique, an arena to ask questions and seek answers, new ideas, and share the days when things don't go so well
,,,,,,, backed up by techniques videos, notes, access to me during the day via Messenger with any doubts or problems.and much, much more! 
……..ideas for your future development as you near the end of the six weeks
2. Password protected notes and demonstration videos guide you through the six weeks to create your inspirational painting, which may be a Buddha, or may be a completely different personal choice. These notes and videos include my unique collage preparation, building playful layers via patches of colour, stencilling, mark making and a wealth of other techniques, transferring the outline of your image using the grid method (if appropriate), developing the intentional stages, by developing, form, value and composition using value and colour to give your image depth and dimension, and exploring the pathways and decisions which appear at every stage, as you discover your style, and the painting becomes truly 'yours' and you begin to understand your style.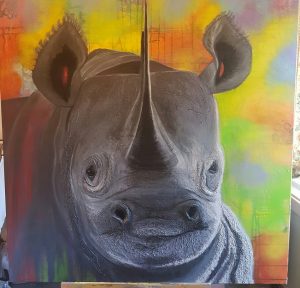 3. Additional notes, techniques and videos related to journaling and self expression, including exploring your personal inspirations through memories and sensual images from your life and experiences,  in the quest both for ideas and to develop your personal style.   Work is mainly with acrylics, but oils can be used. 

4. A private but very sociable and supportive Facebook group for all course members only where you will find advice and support, as well as sharing ideas, positive critique, hints, tips, chats about materials and, of-course, making new like-minded friends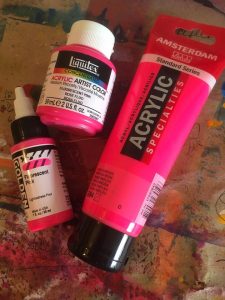 5. More advanced painters may wish  to discover and explore with personal input and exchange of ideas etc their style and inspiration via personal tutoring, positive critique and techniques to expand self confidence and a spirit of experimentation and setting personal challenges and objectives. Everything is adaptable to your individual skill level.
6. Explore the work of your favourite artists without  seeming to be 'copying' your favourite artists, but developing your own, unique touch, your own natural style, which you are proud of.
6. Flexibility – you chose the frequency and number of your sessions, and they can be accommodated into the unexpected happenings in life!
                                   Paint pictures you love and with your unique personality!
                                        Most of all…stop worrying and enjoy the process!
Initial Six Week Programme           COST: $175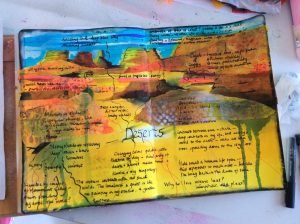 You can use the PAYPAL buttons below, or direct to my Paypal address which is lindachaves15@gmail.com if you prefer a different currency.
When you enrol, do send me an email or message telling me all about you, and what you would particularly like from the course…this will help to prepare for our first Skype session, which will be FREE, as we get to know each other and set our plans and objectives.
PAYMENT
Please enrol me on your online e-course and I would like to pay $175 now:
CONTINUED MENTORING /MENTORING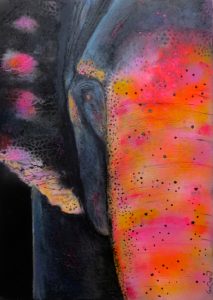 After the initial six week programme, you may wish to continue on with our personal chats, and maybe to interact in the group, following our journey together.
….or you may wish to begin with me at this point. I always offer a free Skype session to anyone who is interested…to get to know each other, for you to ask questions, and for you to decide with absolutely no pressure. as everyone is an individual with very different needs and aspirations, I also need to make sure I can help and guide you on your path.
The MENTORING will be  totally flexible, and you may prefer a more intenive or less intensive approach. It is fine to take mentoring breaks for other life commitments, courses, holidays etc, then resume. However, I do recommend some regular contact – as it is essential to keep some focus, I know how easy it is to get distracted and let life take over!
Please make payments direct to lindachaves15@gmail.com via Paypal if you wish to pay in different currencies.
Four hours of Skype  mentoring  $160
Two hours of Skype plus mentoring   $80
If you would like to ask me any questions about the course, please email me at linda.janet.chaves@gmail.com and I will be happy to reply.