I have long had the innovative idea of offering a different kind of experience for those who
are travelling alone, or with  a couple of friends
would like a much more intimate, personal, flexible and freer experience, and lots of fun, too, tailored exactly to your needs and level
may want to combine painting with exploring and discovering Portugal with organised trips and tours and really get to know the 'real' Portugal
would like to book in for a shorter or longer time than most workshops
may also be looking for nearby opportunities for massage and yoga practice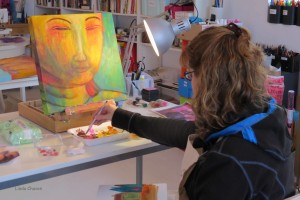 Then the Pink Buddha Art Studio is for you. My Paint with Linda offers several different, very flexible components so you can choose exactly the kind of retreat that you would like. Dates, of course, will depend on availability, so, rather than give any fixed times, I will try and fit in with your plans, or give alternatives. How we proceed is best done, I feel, by personal contact, as there are a number of choices and options – but here are the main aspects to consider:-
Payment will be by day, so you are welcome to stay as long as you wish. You can see the charges at the foot of the page.
There is accommodation for up to three people in their own rooms  – in other words there are two double-bedded rooms, and a room with twin beds. You will have complete privacy with all amenities – you can read all about my house here – and on a self-catering basis. However, if you are travelling alone, I am happy to reserve the house just for you – each booking is exclusive and no other bookings taken for that time. Prices can be flexible, too, according to numbers and time of year and I am happy to take each booking and request as unique (you may, of-course, choose to stay elsewhere). If the accommodation, which is totally separate from the studio,  is already booked for other reasons, it will be necessary to stay on one of the excellent local hotels.
You can choose from a number of activities – you might like to choose from one of my workshops, such as my 'Paint Your Buddha' online workshop soon to come, you may like to be accompanied or taught  particular skills, you may just want to come and paint with me – or you may want to have the studio all to yourself or a mixture. This is your choice entirely, and we can easily organise and personalise your retreat.
I will meet you at the airport (Porto airport) on arrival, and take you back when you leave. I am happy to give the occasional lift to the supermarket etc, but I advise car rental if you plan to include some independent sightseeing or touring. I am happy, however, to be your tour guide and driver if you are able to pay expenses. Please see here about the trips and tours I can offer.
I have lived in Portugal for over thirty years, speak fluent Portuguese, and know the area and its lovely people really well.
The cost will depend very much on the number of people, the length of time and your chosen activity. It will, however, be based on the following outlines:
Studio time with Linda plus accommodation for one person, including materials = $195 per day
Use of studio plus accommodation for one person without tuition, including materials =

$125 per day

Studio time with Linda without accommodation for one person, including materials = $125 per day
Use of studio without Linda and without  accommodation, but including most materials = $100 per day 
There will be an additional charge of $60 per extra person, up to a maximum of three people. Non-painting partners are welcome.
Please note that the cost of stretched framed canvases larger then 30 cms is not included. Let me know before you arrive and I can get these ordered in for you, or we can get them after you arrive. I am happy to send the canvases to your home address after you leave – details about this are here.
There will be a slight surcharge in the winter months to cover heating bills, and for larger groups all year to cover increased water heating charges. I lament the need for these, but electricity and fuel costs in Portugal are extremely high, sadly.
I see these prices as guidelines and they are very flexible, as circumstances are. I am very happy to chat via email and skype to hear what you would like, and see if we can arrange this…the whole idea is to make the retreat just right for you!
Please email me at linda.janet.chaves@gmail.com if this interests you.