COME TO SERENE, TROPICAL SRI LANKA  FOR A LIFE CHANGING, UNIQUE, AMAZING ART AND                                                      TRAVEL RETREAT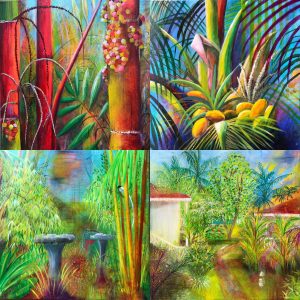 I am offering  fabulous retreat and workshop experiences for single people and small groups of one to four people in 2019 and 2020. I have spent a lot of time in this tropical paradise, just voted Lonely Planet's Best Destination in the World 2018 and can guarantee an experience which will be awesome, life changing and unforgettable, tailor made for the travelling artist (and their travelling companions) with different programmes for beginners and more advanced artists which can be very flexible and personalised….a heady mixture of art and adventure, support and friendship, and full of magic and wonder.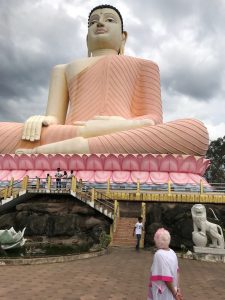 Sri Lanka is a small island just south east of India but very different – the predominant culture, especially in the area where I will be holding the workshops,  is Buddhist, and there is now peaceful coexistence with the Hindi Tamil people, and other communities.
The people are smiling, kind, thoughtful and very devout and sincere. It is a country where you can feel safe. It is somewhat more modernised than the areas of India I know….the roads are generally in very good condition, there is a wide range of shops and supermarkets nearby, and things are usually more organised….but life here is relaxed, calm and warm, like the soporific climate!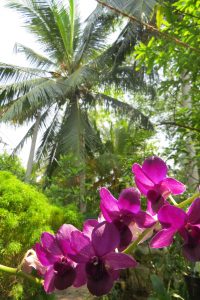 The vegetation is vivid, verdant and lush with strong, bright colours and fragrant flowers and fruits. My art here is totally different, and is some of my best work, I believe. I would like you to feel inspired in a similar way.
Non art friends or partners, and larger groups (travelling together) are also very welcome.
You may extend your stay in several ways – please see my suggestions at the end of this page.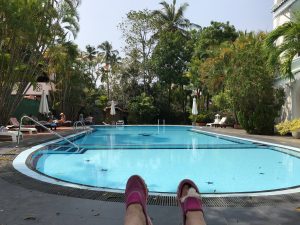 For available dates and prices, please see below.
The retreat will consist of…..
Five days  of art sessions, which may well be split into half days, including a range of options according to your experience and preference. I will lead all the sessions, carry out some technique demos, and, accompany and mentor each person at every step. In my experience, in a tropical climate, early morning longer sessions work best, with a further later afternoon session, avoiding the heat of the day, giving people free time for a long lunch, a swim or a snooze…or all three!
You can choose from a range of art options, or mix several together. You do not have to decide now, and can even decide after you arrive!
Mixed media techniques………..how to build up a painting loosely in many superimposed layers, introducing a wide range of techniques and methods, including accompanying demos, incorporating both intuitive and more considered, planned stages. I will help you choose your subject, and you can use photos and sketches to begin the process. It's all about enjoying painting, and to relax and have fun as well as a learning experience.  I will support, guide and encourage you at every stage. For beginners and above.
2.  Travel Journalling ….introducing a wide range of techniques for recording your travels both visually and written, so you can relive your experiences for years to come. A small mobile ratchet type printer and good supply of photo papers is recommended if you like to use photos, too.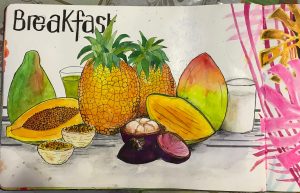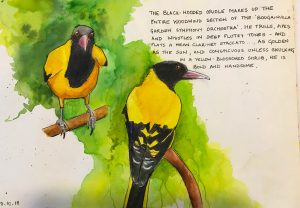 3.  Simple Sketching…..building confidence in drawing, in pencil or pen, learning to see, and enjoy the meditative Zen feeling by being immersed in nature and in the moment.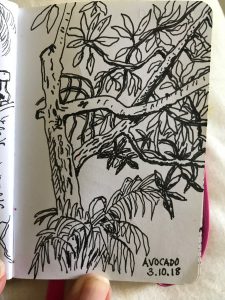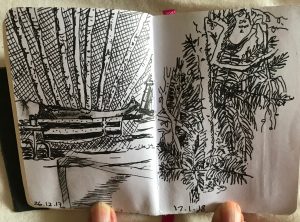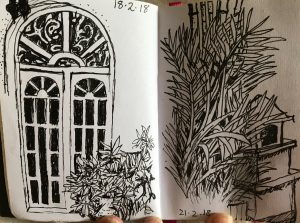 4.  Exploring ways to respond to Sri Lanka, for more experienced painters, either realistically, abstractly or a mixture, ideas for identifying and developing your personal inspirations here in the tropics, and developing your unique style.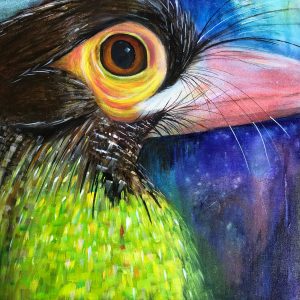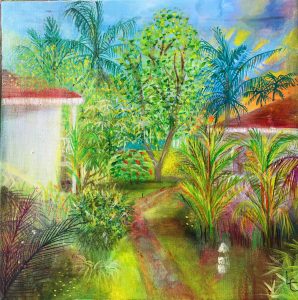 You can try one, or a mixture of these,  or even pursue your own ideas, with me to support, mentor and suggest.
These sessions will take place in the house and garden of Piyal, our driver and tour guide, who lives a stone's throw from the hotel. You can also continue your art at the hotel, of course, where the fabulous gardens with their amazing bamboos, flowering shrubs and swaying palms will definitely inspire your art, as well as your tuneful bird and animal neighbours.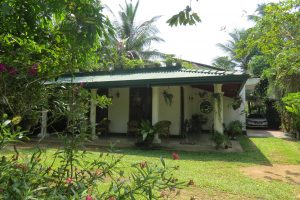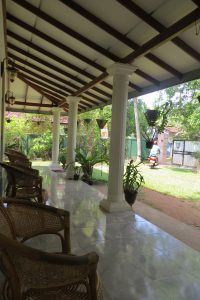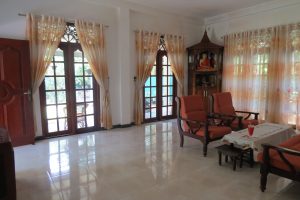 1

0 nights, nine full days, at the

Bougainvilla Hotel

, Siripathi Road, in a village on the outskirts of the town of Aluthgame, near Bentota Beach. It is less than two hours south of Colombo, and slightly more than this from the airport. Included are a fabulous breakfast spread, and an evening meal, with a choice of Sri Lankan or Western fare. Lunch is not included in the price, as every day will be different, but it is easy to get a tuk tuk to a cafe in town, a supermarket to get a picnic lunch, or to order at the hotel.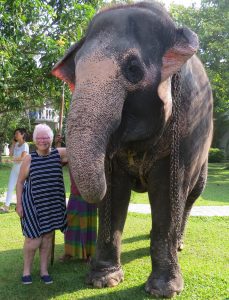 Transport to and from the hotel for art sessions is included, but it is so near that you can easily come and go as you wish. Extra tuk tuk trips to town, the beach, temple etc, are not included but are easy to arrange and very cheap (and you get a nice breeze!).
If you have a birthday or anniversary during your stay, the hotel may surprise you with a performance by traditional dancers from Kandy, the ancient capital, or (my favourite) a visit from the adorable local temple elephant!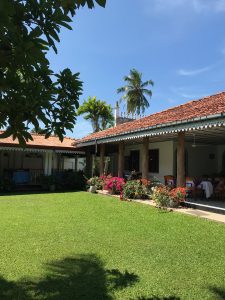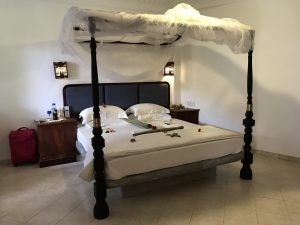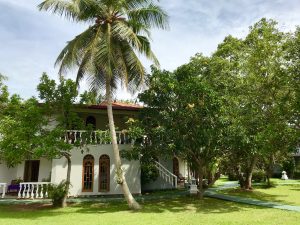 Two full day trips

, with your driver, host and guide Piyal, to…………..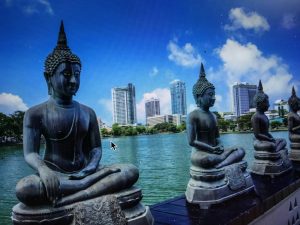 Colombo which will include, among other places,  a city tour, including the National Museum and National Museum of natural History, the Pettah market area, Gangarama Buddhist temple, parks and government buildings and the Hindu Kovu of Slave Island and many shopping opportunities.
You are also welcome to visit any other places you might have researched or find interesting. I recommend the Barefoot shops for wonderful textiles, gifts, books and clothes, Laksala for traditional gifts and handicrafts, and Cotton Collection for fusion style cotton and linen clothing (my personal downfall!).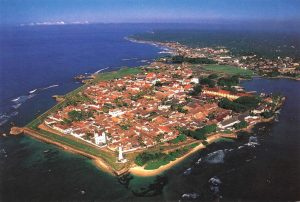 2.  Historic Galle Fort, a fascinating small historic area of Portuguese, Dutch and British influences, with little shops, restaurants,  ramparts to walk and interesting nooks and crannies.
 

Shorter, local trips

, to the local turtle conservatory, a river boat trip, a trip to the beach, a visit to my favourite Batik artist, and more if you want to explore further. Small numbers mean we can be flexible and make decisions according to how we feel, and the weather! There is always a tuk tuk to hand if you feel like doing some exploring alone, but you may be more tempted by the fabulous hotel swimming pool, like me!


A Batik Artist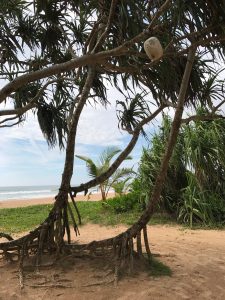 Pick up and Drop off  

from the airport to the hotel, and from the hotel to the airport.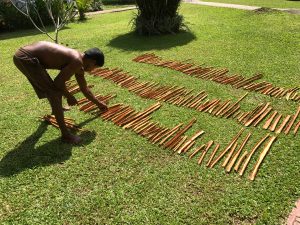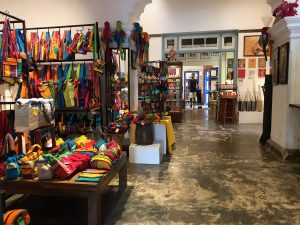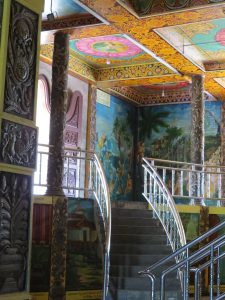 A welcome lunch, prepared by Piyal and Nadeeka, his wife, Sri Lankan style, to welcome you to their home and country. The local temple, Kande  Vihayaya, is very famous and very near the hotel, a ten minute walk at most, or a short car ride, and I am sure that the devout Piyal will love to show you around, and explain its decoration and history. I have yet to visit without being moved to tears
Non art partners or friends I am happy to welcome partners/room sharing friends who do not want to do the art, at a discounted price per couple. I have also been asked if a non art friend can come, go on trips, but have a single room, which is also not a problem at all.
Larger groups are also very welcome, though the cost will be a little higher as it will be necessary to hire a minibus to replace the car. This should be minimal shared among several people and will include all the relevant insurances 
PIYAL
Piyal is a driver and tour guide with over 15 years experience, and has travelled all over Sri Lanka. When I first came to Sri Lanka in 2011, he was our driver guide for our island tour. He is a quiet, kind, family man together with his lovely wife, Nadeeka, and their two teenage children. I have travelled all over the island with him and can testify to his safe, calm driving and his determination both to please, and to make trips as interesting as possible. His new car is fully licensed with appropriate passenger cover etc. They have opened up their home to us for our art, and our welcome lunch. not only a great place to be, but you will hopefully, as well as the trees and flowers, enjoy watching the birdlife, as the tropical birds swoop down to eat or bathe in their special corner!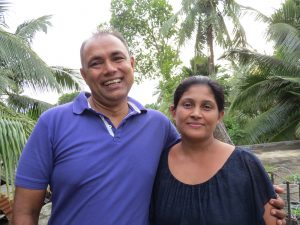 RETREAT DATES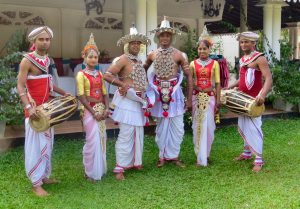 2019
August 2nd to August 12th (booked)
August 19th to 29th 
Available
September 3rd to 13th         (booked)
September 17th to 27th.      (booked)
1st to 11th October
(booked)
2020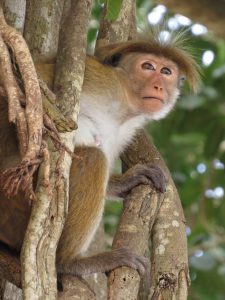 March 17th to March 27th
March 31st to April 10th
September 15th to September 25th
October 6th to 16th
October 27th to November 6th
*dates after this are possible, but as this is approaching high season for the hotel, the room prices may rise slightly
If you arrive, say on a Tuesday, art and tours will begin with a welcome session slightly later on the Wednesday morning followed by the welcome lunch, and our first introductory art session at Piyal's house. This will give you time to settle in, acclimatise and sleep off or swim off the journey. Dinner at the hotel will be included for you on the Tuesday evening. Snacks are available all day.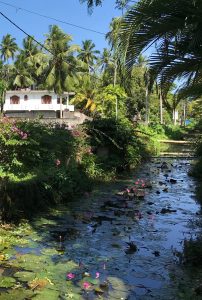 All dates  are very flexible and easily changed according to your flights and plans…if you can only come at a different time, just let me know and hopefully I can reorganise, depending on my own visa limitations! I love being here, so I am happy to stay on!
PRICES
Please note that the air fare, tourist visa (easily available online) and travel insurance are not included.
Single person, own room, tours alone plus art and all else as stated above
= $2500 = €2190= £1950= 3525 AUD
Single person, own room, happy to share tours and  art sessions with no more than three others, and all else as above.
= $2425 = €2125 = £1890= 3420 AUD
Two friends sharinga room, plus tours plus art and all else as above
= $2175 = €1905 = £1695 = 3066 AUD   …….. each
Two partners or friends sharing, one not wanting art but including tours and all else..price for TWO people
= $3595 = €3160 = £ 2815= 4983AUD
Accompanying friend…own room, tours but no art etc
= $1735 = €1520 = £1350 = 2445 AUD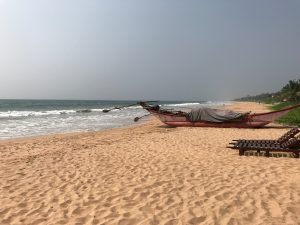 You can pay by Paypal to lindachaves15@gmail.com , or just let me know if you prefer international bank transfer. Just email me when you are ready to go ahead and book and we can proceed.
I am happy to set up payment in instalments if that suits you better, with a 30% deposit.
Please note that payment in full will have to be made at least six weeks prior to the retreat, as the hotel and Piyal our driver will have set aside this time.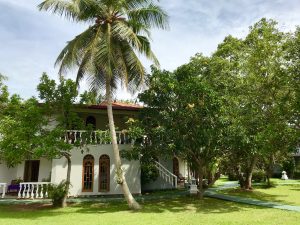 EXTENDING YOUR STAY ……..PIYAL'S TOURS
You may wish to extend your stay in three of many ways….
Book for a longer time at the hotel   or
Make your own travel plans to explore further afield      or
Piyal has also planned  out some longer 3 and 4 day tours for anyone who would like to extend their trip and see more of the island. The tours are not cheap, but will be fabulous….you will be chauffeur driven, guided, staying in lovely hotels chosen mainly for their fabulous views or location. These will include trips to Kandy and Sigiriya, Nuwara Eliya and Ella, and a safari and whale watching trip to Yala National Park and Mirissa.  You might prefer just to stay on at the hotel for a few days, or plan your own trips, or just leave after the retreat……your decision entirely.
Please let me know if you are interested in Piyal's tours (link below)….again, you can decide even after you arrive if no one else has booked prior to this. These tours are flexible….you can do just half of a tour, do both, or Piyal will be happy to take you to other places if you let him know the details.

Please look here for details of Piyal's Tours.