Artists, are you seeking a venue?
I welcome all artists to give workshops at the studio, including the full range of painting media, mixed media and other artistic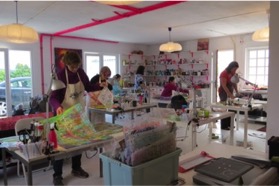 and creative skills such as journalling, three-dimensional work, fibre art, dyeing and encaustic, all levels. I try really hard to build a good relationship with each artist so that they can get to know me, and what I have to offer in the studio, and what I have to offer each artist. I like to develop this by means of Skype or FaceTime or similar so we can build up both trust, confidence, excitement and, hopefully, friendship.
Together we can work on details such as financing and fees, the name and content of the workshop, promotion, materials, accommodation and all the other details. I like to establish dates and the length of the workshop first, so as to keep an accurate calendar, and go from there. I try hard to think of every possible detail – being the Head of a brand new school a few years ago, responsible for everything, taught me that very well!
I am very happy to offer my house, together with self catering accommodation, which is above the studio, a modern three-bedroomed apartment with all amenities, to the artist for the duration of the course.  It is your decision if you are happy to share the accommodation with other students, as there are three bedrooms – this is certainly something we can discuss. I will, of-course, meet you at the airport. The house has also been a holiday let for seven summers, so I am used to the needs of visitors and everyone seems to love it and feel comfortable. I very much regret that it will not be possible to offer accommodation to partners and/or children. My objective is to offer a retreat-type experience, to allow people to relax away from home cares, to feel free to talk about issues in a safe environment, to have fun, to use the pool in summer and to avoid privacy issues.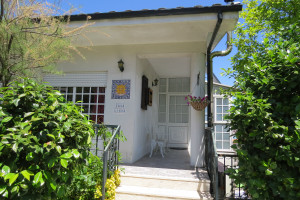 There is a lovely view over the garden and pool, and then over farmland from the bedrooms. The whole area is rich in history and areas of great scenic beauty, so outings, trips and plein air sites can be arranged, too.
My aim is that students do not need to bring much in the way of materials – I try to equip the studio fully. I think the studio would be suitable as an art venue for all levels and categories of art – from craft/scrapbooking/ journaling through to advanced painting in all media, including mixed media. I opened in May 2015 and have already held two very successful workshops myself, both painting and mixed media. Any special materials can usually be organised, or the students asked to supply them. Art has not developed as a popular activity or hobby here in Portugal, and thus supplies are not always easy to obtain – but there is always a way!
If you would like to see more photos of the house, please see http://pinkbuddhaartstudio.com/workshop-information/accommodation-2/lindas-house/    or you might like to browse my rental site at  http://www.ownersdirect.co.uk/accommodation/p8024306 (please note that the prices do not apply!) Students may also stay in a nearby hotel which I ask they book separately  – please see page http://pinkbuddhaartstudio.com/workshop-information/accommodation-2/lousada-country-hotel/  if you would like to see the hotel.
I do hope this interests you! I am now looking towards both 2017 and 2018. I can promise you that I will do everything in my power to work towards very successful events, which are also great fun, by providing a gorgeous environment and fostering great relationships both with yourself and the students. Please contact me if you are interested and we can talk in more detail. I can supply much more information if you wish. I do hope you decide to come!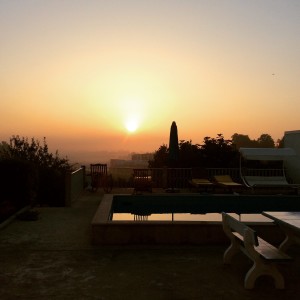 Thank you – I do hope to hear from you.