During your stay at the Pink Buddha Art Studio, I am sure you will want to dedicate some of your time to exploring the unique, historic and beautiful country that is Portugal. A country where the people are by nature hospitable, caring and kind, where you will be welcomed and feel safe and at home – and want to return many times. It has a very special atmosphere that is almost impossible to define!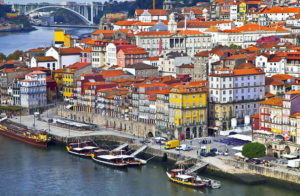 During an artist workshop, the artist and myself will decide which trips best fit into the specific aims and content of the workshop programme, though you are always free, if the calendar permits, to stay on at the house for a small extra charge for a few more days and enjoy more travel.
When you come for the 'Paint at the Pink Buddha with Linda" experience, then you will have a free choice on where you would like to go, depending a little on the weather and the time of year. Other than a train trip to Porto, trips are by car, two cars if necessary, and I will happily drive and escort as your tour guide. Included in every programme, I offer one set of return train tickets to Porto, as a gesture of goodwill, and these trips are extra to this.
I also offer a Portuguese Cookery Experience – please see the end of the page for details
Escorted trips and outings
A. Day trip by car/s to visit the Unesco World Heritage area of port wine growing and production up the River Douro.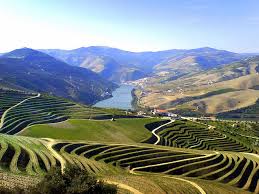 This comprises, with small alterations according to the weather and season, a scenic trip over the Marão Serra, a brief stop at Régua with a visit to the elegant Museum of the Douro ( especially in cool weather), and a lunch stop ( lunch not included) If the weather is clear, we will go to the panoramic Chapel of Sao Leonardo, which is just superb, and enjoy either a simple picnic, or lunch at the nearby restaurant. A short distance past Regua, we will stop at the organic port wine estate 'Quinta do Tedo' for a tour of the Port production facilities, the lovely cellars with oak barrels and finally a tasting session! Proceed along the south bank of the Douro, past the wine terraces to the little town of Pinhão, to see the famous tiled railway station. Then, as time permits, another scenic ride to a little village in the hills stopping at a gorgeous little gift shop selling local arts and crafts, before heading back to Lousada.
Cost: $125 to include fuel, road tolls, and entry to the winery/ tasting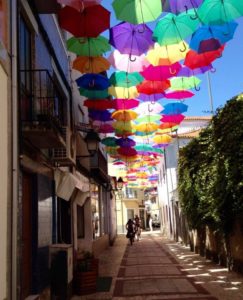 B. Full day trip to Águeda and Aveiro by car, about an hour south of Lousada. Agueda is a lovely historic small town which has dedicated itself to art and quirky, fun installations. Streets covered with colourful umbrellas, painted utility constructions, street art and much more to see. If weather permits, we will proceed to the ria city of Aveiro, known as the Venice of Portugal, a city of canals, fishing, beautiful buildings and much more. A boat trip along the canals is possible as an optional extra.
NB: This trip will only be possible July to September
Cost:
To Águeda only $115 to include fuel and road tolls
To Águeda and Aveiro $140 to include fuel and road tolls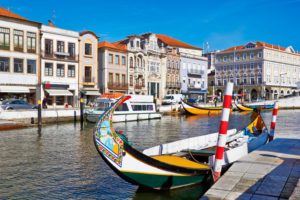 C. Full Day Trip to Ponte de Lima and Bom Jesus, Braga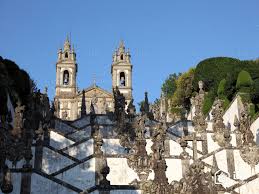 First we will make our way to Bom Jesus, a wonderful church overlooking the city of Braga with majestic steps leading down the hillside. Then on to Ponte de Lima, a fascinating, beautifully preserved town with a Roman bridge and a historic centre to stroll around. Nearby are some wonderful gardens, perfect for sketching, photography and just to enjoy.

Cost: $115 to include fuel and road tolls
D. A Day for Scenery Addicts
A full day's drive with lots of stops for photos and admiring panoramic views through the amazing mountain areas of Northern Portugal. Depending on the time of year, we can go to the serras of Marao, Alvao (to see some waterfalls), or north to the mountains and lakes of the Geres area. This trip can only be done with a maximum of three people in the summer months.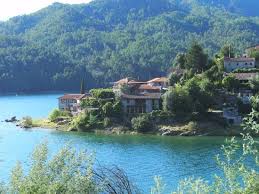 Cost: $140 to include fuel and motorway tolls
NB: Trips to Lisbon and Sintra further south,  and to Santiago de Compostela in Spain are not feasible as one day trips, as they are quite gruelling drives, and would not allow enough time to enjoy the sightseeing. I recommend that, if you wish to visit any of these, that you make arrangements to go there either before or after your time at the Pink Buddha.
It is possible to organise a long day visit to Fátima and/or Nazaré or Óbidos but only with one or two people. This is best decided during your stay.
Half Days
A. Afternoon trip to Quinta de Aveleda, a lovely green wine producing estate near Lousada. This will include a guided tour of the gorgeous gardens, endless possibilities for sketching or photos, a look at the production plant and a tasting session in a lovely old house overlooking the vineyards. Finally an essential visit to the shop selling wines and their own cheeses and much more. It is possible to end the outing with a stroll around the old centre of nearby Penafiel, especially in the gardens of Sameiro, a very unique church.
Price: $ 50 to include entry to quinta and wine tasting, as well as transport.
B. Half day visit to the local city of Guimaraes, a very historic town with a wonderful old town centre, an amazing castle and much more to see and do. More possibilities for sketching and journalling, too. This was the seat and beginning of the country and kings of Portugal
Price: $ 45 to include fuel and motorway tolls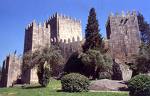 C. Half Day tour of selected sites along the local Romanesque and Gourmet trails, plus a visit to the main information centre which is due to open shortly in Lousada. The area is dotted with ancient sites – churches, towers, monasteries, abbeys, manor houses, bridges and much more. Anyone interested in history, or who enjoys sketching or painting historic sites, or even likes the 'Wabi Sabi' approach, would love this. I always try to include a couple of stops on the 'Gourmet' trail to a dairy or winery for tasting sessions. This will depend on what is available and open at the time.
Price: $45 
There is, of-course, much more…people may well want to revisit Porto as it is huge. I thoroughly recommend a trip on the blue on/ off buses which includes a visit to the port wine lodges in Gaia as well as a boat ride on the Douro!
I would like to explain that gas here is double the US price, and tolls are very very high, so I have had to take that into consideration .
Portuguese Cookery Demonstration
My friend/assistant Isabel and her gorgeous mum enjoy nothing more than to come to the house and give a demonstration of a typical Portuguese meal, which you can help in choosing. So much fun is to be had in this delightful exchange of cultures, as well as just the cookery. Of-course, we all sit down to eat together and have great conversation, too.
It may be possible to include at no extra charge a short demonstration of Portuguese jewellery making with cork, including a chance to buy – they make excellent gifts.
Cost $20 per person plus cost of food as explained below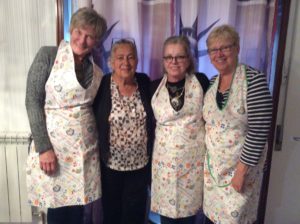 (The total cost for the food will be divided equally between everyone attending the evening as participants)