You are now in art heaven!!



 Come to the Pink Buddha Art Studio in Northern Portugal, explore this wonderful country and paint as much as you wish in a large, spacious studio. The studio is available for you to use along with me as your teacher,  as part of the Paint at the Pink Buddha Experience. Nearly all materials are included, so you do not have to fill your suitcase with supplies!
Paint at the Pink Buddha Experience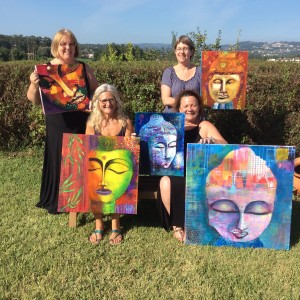 I video chat with every student or small group individually to devise and plan out a programme YOU would like – the right combination of  studio time, any trips and outings and free time to enjoy this unassuming yet lovely area of Portugal.
Teaching and art are my joint passions and every experience is unique, where I try to include learning, support,  a wonderful atmosphere, friendship and fun!. My aim is to surpass all your expectations!
Please contact me personally if you would like to ask or find out more. I am happy to devise a programme just for you from one to six days.
Click here for details and cost……
The Paint at the Pink Buddha Painting Programmes (which can be adapted easily according to experience and time available)  include:-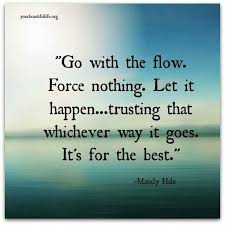 –Painting a Buddha with Linda, learning all her techniques and approaches
–All about Travel Journalling…….techniques and approaches, then off exploring and  recording in a variety of mediums to produce your own amazing journal about your time in Portugal including your impressions of the gorgeous city of Porto
– One Step Further in mixed media techniques, and a deeper look at the principles of art and composition
– Using the concept of 'Flow' in your art via a range of art techniques, using poetry and your own intuition
– Discovering your Style….digging deep to find out your true sources of inspiration  and how to use these to make your art truly your own 
-Approaches to Portrait Painting……..my methods for capturing a good likeness, as well as the personality of the person, 
Please let me know via email (linda.janet.chaves@gmail.com) or Messenger which of these interest you if you decide to come and we can work together to plan out an individual programme according to time available and your experience.
Depending on the time of year, gorgeous, art-filled accommodation may be available above the studio for small numbers – this accommodation is called PINK LILY BOIM, and is owned by my friend and collaborator, artist Kelly Verstraete. who will provide full details. She has more inspiring photos and details here.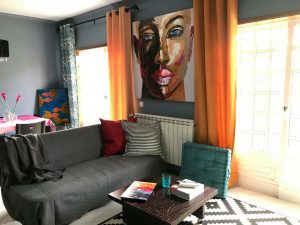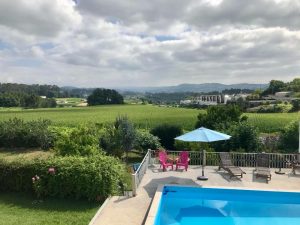 Please ask for details from Kelly using this email…….  
Paint with Linda Ecourse and Mentoring
A fabulously innovative online course incorporating all my techniques and other aspects of the painting process, based on one to one video contact, video demonstrations, notes, and much much more, with the option of continuous mentoring has proved really popular. Please click here for details.
My Art
To look at and maybe purchase my art or related prints, please click here and here, with details on sales and delivery here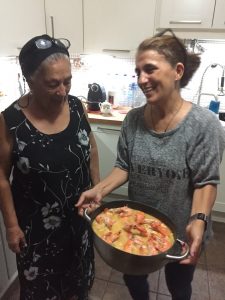 Portugal is a safe, fascinating country full of loving, welcoming people, and I have tried to make my studio a reflection of this. There will be opportunities for trips and outings, if you wish, getting to know local people and their culture and it is always possible to arrange a Portuguese Cookery Evening often the highlight of the stay!
The Pink Buddha Art studio is located on the edge of the small town of Lousada, in the heart of Northern Portugal and only 30 minutes from the vibrant, historic city of Porto. It looks  out over farmland to distant hills, and opens onto a wide sun terrace, swimming pool, and a lower garden with fruit trees.

If you would like more information about anything at all, do get in touch with me via email at linda.janet.chaves@gmail.com or via Facebook Messenger.
I have lived in Portugal for over thirty years, speak fluent Portuguese, and know the area and its lovely people really well.
Looking forward to meeting you at the Pink Buddha Art Studio! I can guarantee a wonderful experience!