About me
I was born in London and grew up in the suburbs – ambling my way through the sixties hippy years and the ups and downs of life through the next few decades. I have always liked being a little different, a little unusual, I suppose like my punk haircut with pink streaks! I see myself as adventurous, driven, optimistic and a born survivor, strong and independent but with a sensitive, vulnerable side, too.
I am hopelessly addicted to travelling. I paint what is in my head – images, people, ideas, places in strong vivid saturated colours – I call it "painting from the inside out', hopefully with heart and soul, with all my personality. I now paint every day, and surround myself with colour. My aim is to leave an impression, to share the world and to celebrate everything I have seen and experienced.
I have been a teacher all my life, both at Primary level and adult education. First in the UK and then in Portugal, where I came on a year's teaching contract, but fell in love with the country and stayed – I have been lucky to have held some wonderful posts, including Headships, and teaching is still what defines me, my guiding force.  
My interests in painting and journaling came later in life. I started keeping both daily journals, and then more visual ones, when I discovered a new passion for painting and drawing. When I had the opportunity to travel widely around the world, particularly to the US and to India, I felt a need, almost a compulsion, to record the strong images I had seen, the people I had met, my many experiences.
So I took a large number of courses, began my lifelong learning journey, and watched my passion evolve into a daily 'must do' which has become the focus of my life. I have studied technique in depth through intense reading, practice and a vast array of online and actual workshops all over the world. I paint in acrylics and, more recently, in oils, and have developed a number of unique collage techniques which I incorporate into much of my work. As well as memories of India, such as Buddhas and elephants, I love portrait painting, both realistic and expressive, and am working on a number of series from my travels. I also love landscape work, and I am currently developing my style into the more semi- abstract expressionist style.
What better way to combine my twin passions of teaching and painting into one – hence, the Pink Buddha Art Studio was born, emerging from the large garage space under my house.
My dream is for it to become a place for people interested in art to come and paint, and also to find fun, friendship and growth, to explore this wonderful country and to have a unique experience. Most of all, this is an opportunity for me to get to know every student, to make an individual connection,  to offer a very personalised programme and to present the studio both as a venue and a place of retreat. This venture has given me new energy, focus and renewed zest for life!
I think I am a very flexible person and I am very open, especially when talking about business, money and work. I have had a long career of dealing with all kinds of people, solving problems, and giving encouragement and support. I am happy to listen to various ways of working together, and helping to make the Pink Buddha Art Studio, and all my workshops and programmes of the very highest calibre, and a resounding success!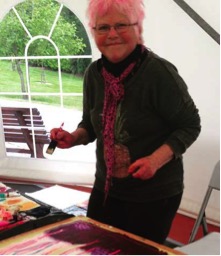 Come and paint with me!