I have tried hard to think of every detail to make your time at the Pink Buddha absolutely unforgettable – and an amazing experience. Please click on the appropriate link for details of where you might stay, flights and transport, and all about the house.
Although there may be small differences between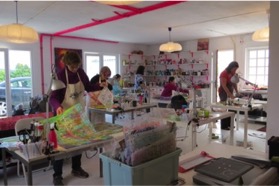 workshops, in general, for each workshop, I try to:
offer teas and coffee during the day, as well as ice-cool water and fruit juices.
offer a fresh snack type lunch each day with a selection of bread, cheese, meats and salad for you to make up your own plate.
 a large fridge in the studio if you wish to bring your own snacks.
there are several cafes and restaurants within easy walking distance if you prefer to go there for lunch and mingle with the locals!
be on hand at all times to sort out any niggles
use of the sun terrace, pool and garden in good weather
transport as and when needed to and from the hotel once a day.
provide as many of the materials and supplies as possible in order to minimise how much you have to squeeze into your suitcases! I have attended workshops flying via budget airlines which have made packing quite a task – often resulting in not being able to bring the kitchen sink!  I will always make it clear if there are items which you may have to bring if they are unavailable locally.
Payments and Cancellation Policy
If you choose to pay in one payment, the registration fee, or deposit, comprises 25% of the total
If you choose to pay in instalments, this deposit is included within the first instalment
In principle, the deposit of 25%of the total cost is non returnable, but I am very flexible and will consider carefully any exceptional personal circumstances which may cause you to cancel. I do advise that you take out a holiday insurance, too, to cover last minute cancellations and most unforeseen circumstances
If you are paying by instalments, I will send a reminder near the due date
The last instalment will be due six weeks before the course commences. If you wish to register after this date, I would be grateful if you made the full payment
If you need to cancel up to six weeks before the course begins, I will refund all payments made until that date, minus the deposit, though, again, this may depend on the circumstances.
If you cancel between six to three weeks  prior to the course start date, then I will refund 50% of the payments, and this will become 25% if you cancel within three weeks. However, do get in touch should this situation arise, as it may be possible to arrange alternative courses, or find a better solution.