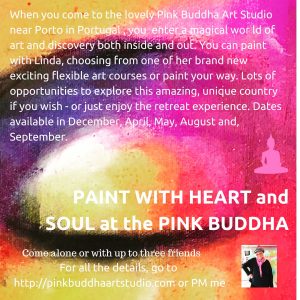 I have long had the innovative idea of offering a different kind of experience, both art-filled and magical, for those who
are travelling alone, or with  a couple of friends
would like a much more intimate, personal, flexible and freer experience, and lots of fun, too, tailored exactly to your needs and level
may want to combine painting with exploring and discovering Portugal with organised trips and tours and really get to know the 'real' Portugal
would like to book in for a shorter or longer time than most workshops
may also be looking for nearby opportunities for massage and yoga practice
don't want to have to bring a mountain of supplies in their luggage!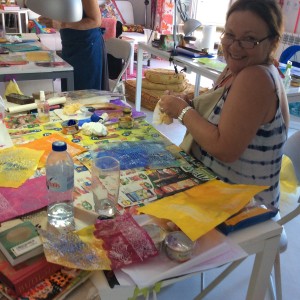 My Paint at the Pink Buddha Experience offers several different, very flexible components so you can choose exactly the kind of retreat that you would like. Dates, of course, will depend on availability, so, rather than give any fixed times, I will try and fit in with your plans, or give alternatives.
……I always video chat with anyone who is thinking of coming, who would like to know more, or to arrange EXACTLY the kind of art retreat you are seeking. Just email me at linda.janet.chaves@gmail.com, or PM me via Facebook via Pink Buddha Art or Linda Chaves, as there are a number of choices and options – here are the main points:
……..Payment will be per day, so you are welcome to stay as long as you wish. The prices are very flexible, as every experience is different and the prices below are a guide. You can see the charges at the foot of the page.
……..You can choose from a number of activities – you might like to choose one of my teaching experiences below, you may like to be accompanied or taught  particular skills, or  you may just want to come and paint with me . This is your choice entirely, and we can easily organise and personalise your retreat.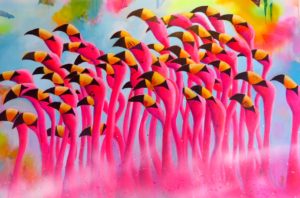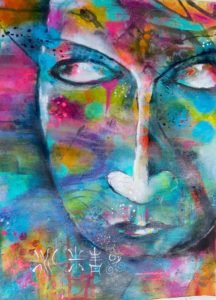 The different experiences, which are totally original, flexible and very adaptable to your style,needs and level will include…
– Painting a Buddha with Linda, incorporating techniques I have developed over the years, and including my unique ways of making and using my own collage papers.
– Travel Journals, an introduction to the wide variety of techniques and approaches, so you can develop your own style, gathering all sorts of ideas, themes and inspirations, using all the senses, which can then be recorded in your journal using sketching, colour, mixed media, photos and all sorts of items from your adventures, as well as written accounts. I am an enthusiastic travel journaller, and have many journals from my world travels….I absolutely love these wonderful records of my trips…filled with sketches and paintings, photos, colours, memories of people and places. I relive my holidays every time I browse through them.
– Exploring Mixed media techniques for acrylic painting,  including elements an principles of design and composition, value and texture. Exploring ways to move the depth and impact of your art to a new level.
– Using the concept of 'Flow' in your art – including using acrylic and watercolour in new ways, alcohol inks, acrylic pouring, drip techniques and inspiration ideas for applying these technique. Inspiration through your own experiences, art and poetry.
– Discovering your Style – techniques and ideas to discover your personal themes in painting or journalling to make your work sing, resonate and become uniquely yours. Especially for those who find it hard to generate new ideas, or feel blocked.
Accommodation
Depending on dates, you may choose to stay at Pink Lily Boim, which is the two-bedroomed self-catering accommodation above the studio. This apartment is now owned by my friend and collaborator artist Kelly Verstraete, and I suggest you contact her at queendragonflymom@yahoo.com, to check availability and cost.There are many more photos and details at https://2starart.com/pink-lily-boim/, too.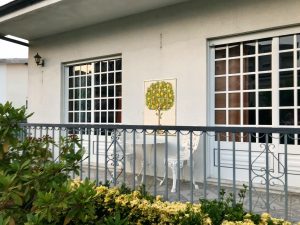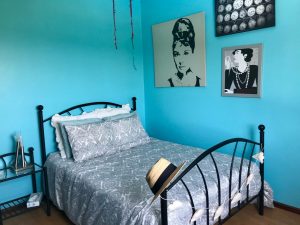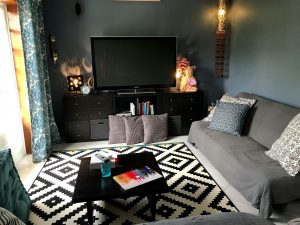 If not, I recommend the Penafiel Park Hotel and Spa, a short distance from the studio (transport can easily be arranged to and from). Please do not book direct or via a booking site, as we have a special arrangement with the hotel for a discounted price, and I will simply add this to the initial workshop fee.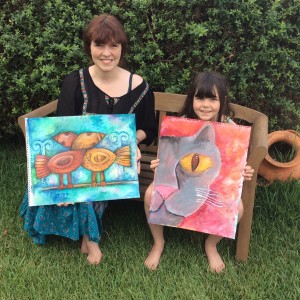 I will meet you at the airport (Porto airport) on arrival, and take you back when you leave. I am happy to give the occasional lift to the supermarket etc, but I advise car rental if you plan to include some independent sightseeing or touring. Trips and tours can be organised on arrival—-there are many options.
I have also been a teacher for over forty years, and still love it as much as my very first year!
STUDIO COSTS
The costs will vary somewhat, according to numbers and materials, but in general these figures will apply:-
Paint at the Pink Buddha Art Experience with Linda (not including accommodation), including materials
   One person:                 $135 per day 
   Two people:                 $75 each per day
   Three/Four people:  $60 each per day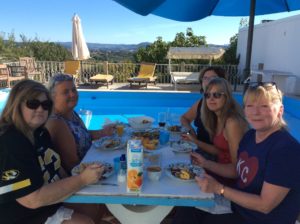 Per day runs from 9.30 am to 6.30 pm. Snacks, drinks and a light lunch are included in the cost. There is room to relax both in the studio and outside in the lovely garden…and in good weather I hope you will enjoy the pool!
Please note that the cost of stretched framed canvases larger then 30 cms is not included. Let me know before you arrive and I can get these ordered in for you, or we can get them after you arrive. I am happy to send the canvases to your home address after you leave – details about this are here.
I see these prices as guidelines and they are very flexible, as circumstances are.  I am very happy to chat via email and skype to hear what you would like, and see if we can arrange this…the whole idea is to make the retreat just right for you!
I am sure you have many questions, so please email me at linda.janet.chaves@gmail.com or via FB Messenger and we can arrange a video chat if you wish.