The Studio
The studio at present has tables for 10 – 12 students, consisting of 7 single tables and 2 double tables. Each table has an angle-poise light for close up work and plenty of space around it. All the materials and equipment are stored around the walls and clearly labelled. Please see the equipment list for a near-complete list of all the materials available.
There is also a cookery area with a stove and a large fridge for storing snacks and drinks, and a double sink with constant hot and cold water. French doors open out onto the patio and sun terrace area, the swimming pool and the garden with fruit trees for swimming and chilling out in the summer months and for Yoga and/or meditation. There is a pool changing room with WC outside by the pool, a WC and shower room attached to the studio, and upstairs there is a further WC as well as a fully equipped bathroom with WC, shower and jacuzzi bath. There are also laundry facilities if needed, and a further kitchen upstairs.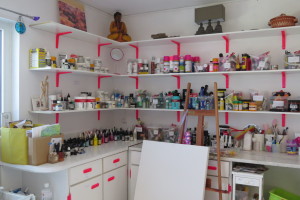 There is quite large collection of painting and mixed media books and needlework books, as well as books on art in general and artists, for people to read and relax – which they can do round the pool, or in the quiet corner in the studio, which has two large sofas and floor cushions. This area can also be used for group teaching, chats and group sessions.
Wifi is available throughout, and to the rear of the studio there is a Mac desktop computer with two printers which is available for the students at all times.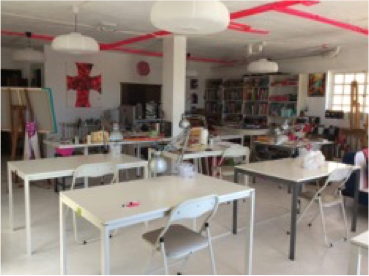 The studio is centrally heated during winter months using ecologically sound reconstituted pellets. In summer, the studio is cool and breezy, though fans are available in very hot weather.
I have tried hard to make it light, spacious and full of the 'wow' factor with a touch of zen!